Date: 25 Aug 2014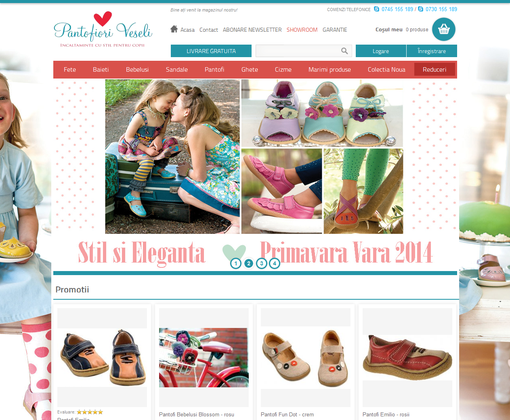 The most cute shop for children's shoes in Romania.
The online store Pantofiori Veseli is a rapidly growing online business with multiple integrations.
This project always brings up a big smile to our faces, because it is one of our most beautiful creations. The store Pantofiori Veseli pleases the eye with its excellent aesthetic appearance, which our designers have achieved in a very short period, fully in line with the requirements of our client.
Apart from the great designers job, our team of Summer Cart`s programmers have made a number of integrations. All orders from the online store are integrated with the software system of the Romanian carrier Hermes Curier; all invoices are integrated with the Romanian accounting system SAGA. As a part of our client`s marketing strategy, we have developed an option for export of products to the most popular shopping site in Romania – eMag.ro. We have also made an integration with a local affiliate system.
Pantofiori Veseli is a dynamically growing online business, launched in 2012 and it is a proof that the online marketing has no limits.