Design your own products with the Stamper module
Create an online store for stamp prints on t-shirts, mugs, souvenirs and gifts with a turnkey solution Summer Cart Stamps.
Let your customers to be unique and sell more!
The creation and sale of products with a custom print on them is a fashion trend for a long time now. You know better, that each one of your clients wants to be different, unique and unforgettable. Therefore, the Summer Cart online store platform expands its functionality with a new module for stamps, thanks to which you can sell a unique products designed by your own customers!
Summer Cart Stamps is an extremely flexible application that allows you to design prints on virtually any item - shirts, mugs, hats, promotional products, business cards, calendars, clocks, souvenirs.....just name it!
Play Video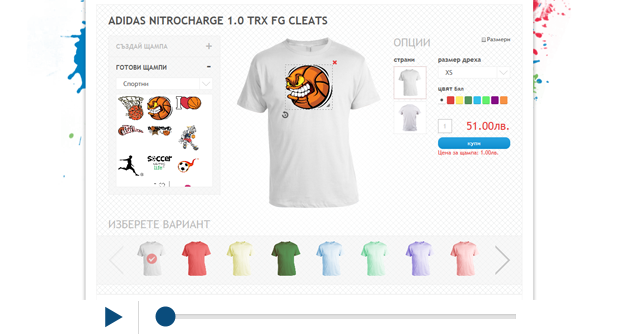 Summer Cart Stamps is suitable for:
Commercial companies engaged in textile printing, souvenirs and gifts
Advertising agencies and printing houses
New entrepreneurs with a creative ideas for unique products
Summer Cart`s ready solution for stamps combines the rich functionality of our online store platform with the ease and interactivity of the special module for prints.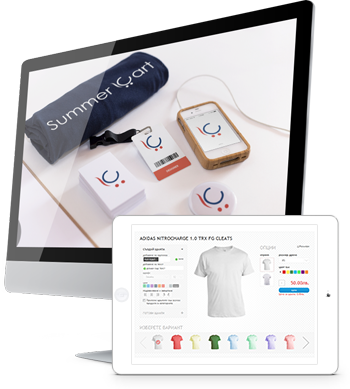 Summer Cart Stamps list of features:
Unlimited number of stamps per product
You are the one who specify the number of prints per product. Each one of them can have up to four sides (print areas)
yesCheck
Flexible pricing for text and graphic stamps
You can set up different prices for text and graphic prints.
yesCheck
Outline a stamping area
Mark out yourself where to put the prints, according to the product side.
yesCheck
Combination of images and text
Summer Cart Stamps supports any combination of designs - pictures, text, color or all together. You and your customers have a complete freedom to create.
yesCheck
SEO Optimization
The module is optimized for search engines.
yesCheck
Works great on tablets
Summer Cart Stamps has Touch Support, i.e., your customers can choose, scale, drag or rotate using only the tip of a finger.
yesCheck
Based on JavaScript technology
Summer Cart Stamps is using JavaScript technology rather than Flash. Therefore, the module works quickly, without the need to install additional plug-ins and doesn`t "eat" from your hosting resources.
yesCheck
Pre-defined stamps` gallery
Summer Cart Stamps supports ready galleries designed by you. You can upload an unlimited number of images and text, which in no way interferes with the option for custom prints.
yesCheck
Combination of stamped products with standard products
yesCheck
Intuitive control and user-friendly interface
Summer Cart Stamps complements the rich functionality of our platform in unobtrusive way, so the work process is simplified to its maximum.
yesCheck
Compatible with all internet browsers
Summer Cart Stamps is compatible and works seamlessly on the following web browsers: Internet Explorer v.9 +, FireFox, Chrome, Opera, Safari and the mobile browsers for Android 4+ and iOS.
yesCheck
Ако имате въпроси или се нуждаете от безплатно демо за 14-дни, моля обадете се на Търговския отдел на тел. 0700 45 155 (вътр. 2) или ни пишете на имейл адрес sales@summercart.com.