About us
Summer Cart won the first prize for Software Development of Forbes Magazine
Our software

Summer Cart is a ready solution for e-commerce, own development of the Bulgarian software company Mirchev Ideas.
Since 2008 we provide the best platform for e-commerce in Bulgaria. Back then, Mirchev Ideas introduced the revolutionary idea for "turnkey solution for online store", which means an online shop with instant start, low investment, and most importantly - all the features are included in the price and they are actively working.
Do we really offer the best solution for e-commerce in Bulgaria?
The facts speak for themselves - in mid of 2014 more than 2700 online stores are using our software to develop a successful internet business. The features and capabilities of Summer Cart are countless. Besides that, businesses of any kind and size are selling online with the same ease - from resourceful individuals through small and medium-sized companies to large retail chains.
Our Summer Cart team is working hard to make sure, that our customers are having the most successful online stores at the best price.
Our history
Before the release of Summer Cart, opening an online store was very difficult decision for the local businesses. In order to do so, the companies had to cover a numerous requirements:
a) advanced technical skills to adapt and run a foreign platform on the Bulgarian market or
b) huge investment (starting from 5000 lv.) to hire a professional web designers and developers to create something from a scratch.
Summer Cart made the online stores affordable for every business, providing a quick and inexpensive start, high quality, hundreds of software features and free professional support. Not surprisingly, the very first version of Summer Cart generated a serious media interest. Since then, we do not stop gaining customers` love and the attention of newspapers and television.
Summer Cart`s creator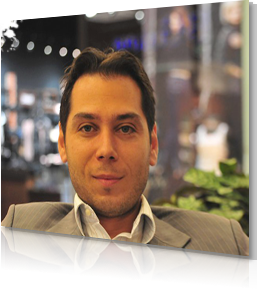 It all starts in the living room of the talented programmer Georgi Mirchev.
Programming was Georgi`s calling, he was developing programs from his early teenage years, of course, without getting paid. While studying "Computer Systems" in The Technical University of Sofia, he was already working and very well paid, even in dollars. Besides being talented, Georgi is a very resourceful person.
In 1999, only 21 years old, he engages with business and develops his own Internet projects with a focus on the US market. In 2003 Georgi founded the software company Mirchev Ideas, specialized in three directions, one of which is the e-commerce platforms.
Committed to the idea to develop quality software solutions, for three years Georgi was programming, managing and mentoring his team 12 hours a day, 7 days a week. The list of clients and projects grows exponentially, offers from foreing companies to buy Mirchev Ideas were coming numerous times through the years. By 2014 Mirchev Ideas accumulates more than 2000 software projects in its portfolio.
Georgi`s greatest passion is the creation and popularization of a proprietary software products. Firstly, because he knows that there are areas in which he is an expert and as every genius programmer, Georgi wants to leave a trace with a significant creation. Secondly, because Georgi believes that he can create the best software at the best price.
The entire team of Summer Cart
In our Summer Cart platform is invested the talent and labor of many people. We want to sincerely thank to all of you:
Developers:
Georgi Mirchev, Valeri Buchinski, Lazar Lashev, Plamen Mishev, Lubomir Nedialkov, Alexander Stoev, Maxim Krizhanovski, Dimitar Dinchev, Tanya Taneva, Doychin Lazarov;
Designers:
Irina Vladimirova, Peter Hadjiev, Damian MIrchev, Miroslav Kotsev, Svetlin Marinov, Delian Pragov, Simeon Andreev;
Conceptual participants:
Mena Mircheva, Stefan Aleksov;
We thank all of our customers, especially the demanding merchants, who contributed prescient advices for the sustainable development of the platform.
Our Summer Cart team is working hard to make sure, that our customers are having the most successful online stores at the best price.