Most Important Design Innovations
1. New responsive theme "Monaco"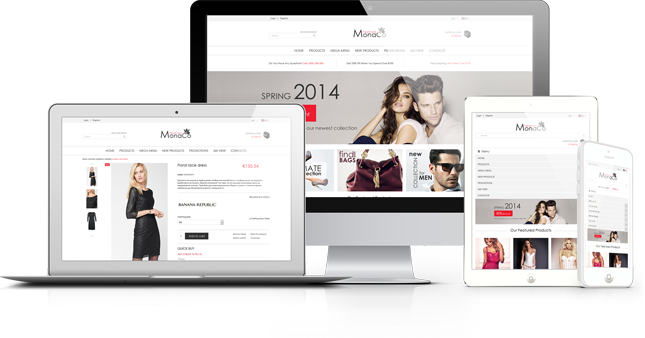 2. Asymmetric Product Listing
NEW AND HOT DESIGN TWEAK!
Now in Summer Cart online stores!
This inspiring design innovation will grab customers` attention and extend the time they spend in your store.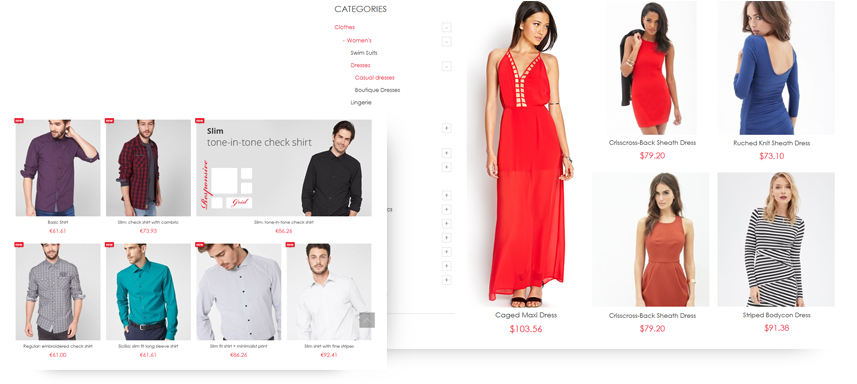 3. Multimedia Mega Menu
A GREAT NEW TREND IN WEB DESIGN!
Multimedia mega menu is one of the latest trends in web design.
It allows you to make endless combinations of elements in your site`s main menu. You can automatically combine brands, categories, featured products, new products, best selling products, videos, banners and blog articles directly in your site`s navigation!
The multimedia mega menu works with Monaco, Chameleon and Fashion Boutique themes.
It is hard to explain, but awesome to see!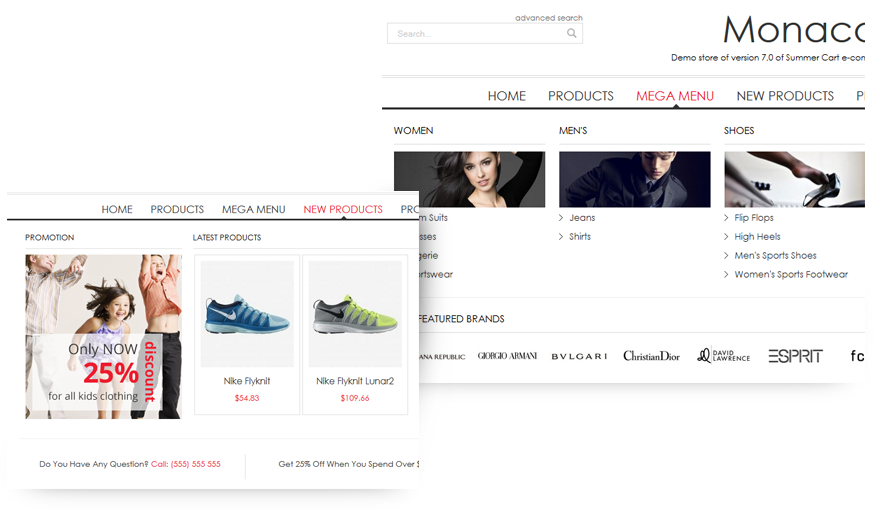 4. Totally new design for the Admin Panel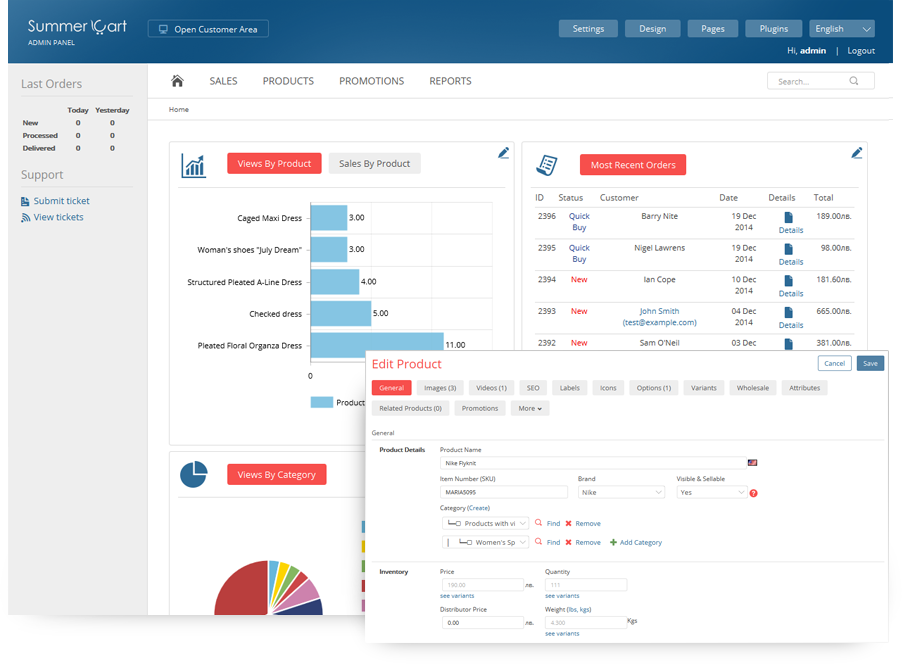 5. Infinite Scroll In Product Listing Pages
Your customers will see all products from a category in a single super-long page. For example, if your site offers 500 models of t-shirts, your visitors will see them all on only one page, with images getting loaded gradually with an elegant and catchy fade effect.
6. Automatic Watermark On Product Images
Now you can automatically generate and put watermark on product photos. You can specify a position, level of transparency, size of the watermark and decide whether you want it to appear on small, normal or large images in your store.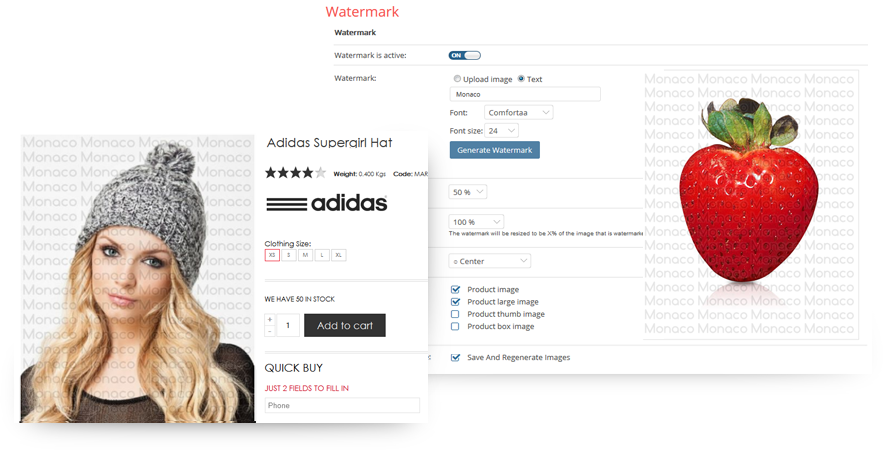 7. Logo Editor
An easy way to create your own company logo!
You don`t need any special technical skills, because Summer Cart will automatically create a logo with a text, colours and size chosen by you. And that is not everything! You can also write an inspiring slogan right under the company logo.
It is so easy to stand out from the crowd when you have a Summer Cart e-commerce website!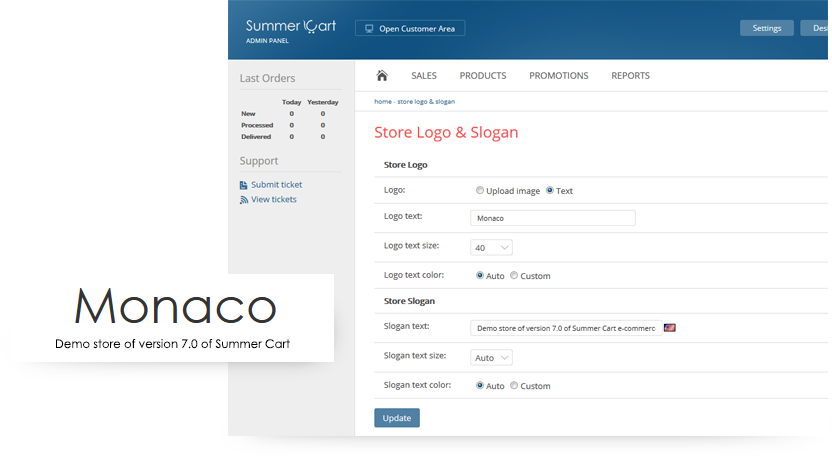 8. Sticky Menu (Fixed Navigation)
It doesn`t have a beautiful name, but it does a great job! Traditionally, while you browse in a website you have to scroll up to the top of a page if you want to access the website`s navigation. Having a fixed navigation (the other name for "sticky menu") makes it a way easier – the main website navigation follows you while you are scrolling down the page. Summer Cart has "sticky menus" in both client and administrative areas.
9. Accordion Menu for Product Categories

Most Important Sales Improvements
10. Express Order Without Registration
An excellent feature for businesses and markets where Collect on delivery and Bank wire transfer are the favorite payment options of end customers.
It takes only a few seconds for your customers to place an order. No complicated forms to fill in, just basic customer information will be necessary. The owner of the store may require a name, a phone number, a shipping address and an e-mail address.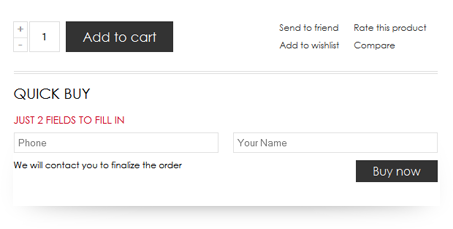 11. Abandoned Cart Saver
A POPULAR FEATURE IN ALL BEST-SELLING ONLINE STORES!
Now built into your Summer Cart shopping cart!
Do you know that almost 70% of your store visitors abandon their carts and never finalize their purchase?
Now, with our new feature, you get a second chance to win them. Abandoned Cart Saver gives you the following information:
А) Real – time data for the current shoppers in your online store (what products visitors add to their carts)
B) The contents of guest visitors`abandoned carts
C) For purchases abandoned during registration you see the registration details of a prospect and his/her abandoned cart`s contents
In case that a new visitor begins to submit personal information during the checkout process, but suddenly leaves your website, you will be still able to see all the data he has filled including his cart contents.
Now everything is up to you to close the deal! You can call the prospect by phone or send an e-mail with a special deal on what the prospect is interested in!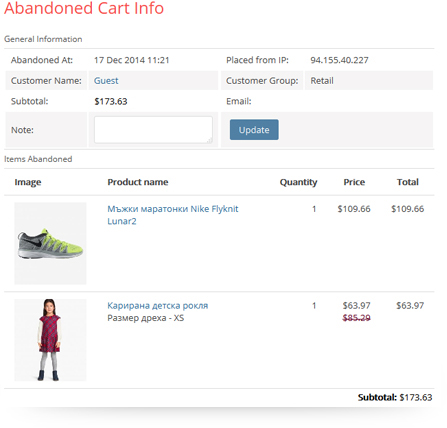 12. Persistent Shopping Cart In Store Front
An awesome feature from Amazon.com!
Now available in Summer Cart online stores!
The persistent shopping cart keeps track of unpurchased items left in the cart, and saves the information for the customer's next visit. Customers who are "remembered" can have the contents of their shopping carts restored the next time they visit your store.
Using a persistent shopping cart can help reduce the number of abandoned shopping carts and increase sales. Using a persistent shopping cart does not expose sensitive account information at any time. During the time a persistent shopping cart is use, both registered customers and guest shoppers are required to either log in to an existing account, or create a new account before going through the checkout process.
For guest shoppers, a persistent shopping cart is the only way to retrieve information from a previous session.
Amazon.com has been using this clever trick for years, now it's your turn!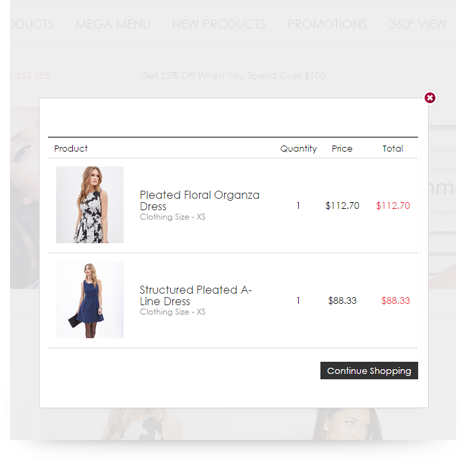 13. Integrated Blog With Facebook Comments
Now you have a built-in blog with categories, articles and comments. A store owner can both automatically and manually approve the comments on the blog. You also have protection against spam through a CAPTCHA code.
14. Google+ Login
Customers can register ang log into your store using their Google profile.

15. Be More Social And Have Facebook Comments Directly On Product Pages
You can show Facebook Like, Google +1 and Twitter buttons on all product pages, blog articles, news pages and any page you create from the Admin Panel. Website visitors can also post Facebook comments right on the product page they're looking at.

16. A number of SEO improvements according to the latest audits of reputable experts
* We support CANONICAL URLs according to the standards of Google, Bing and Yahoo
* We added REL PREV and REL NEXT on listing pages
* We added NO INDEX NO FOLLOW tags in Meta Robots
* We have stopped the inheritance of SEO tags. If the Auto-Fill SEO option is disabled, the platform does not apply any SEO elements from categories neither from general SEO settings upon product pages.
* You can Auto-fill a product`s SEO description using your own template
* You control how to load your site - with www. or without
* Overall speed improvements of the platform have been done
* We have further optimized the compression of product images so that your store is loading even faster

17. 360° Product View
The benefit is clear: this feature provenly boosts your sales providing more reality. 360° Product View is an additional paid module for Summer Cart version 7.0.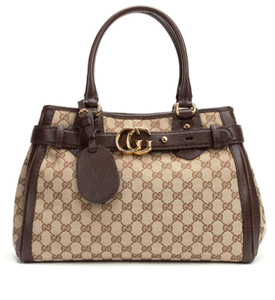 18. Different payment methods for different shipping zones
Now you can assign a payment method to a shipping zone. The point is that, for example, you can offer a "Cash on delivery" payment only for your local market, while you don`t want to do the same for foreign markets.
19. Improvements in Econt courier module DELETE

20. Improvements in Speedy courier module DELETE

21. New products and Discounted products automatically get listed in site navigation
22. New payment methods and shipping integrations
Turkey
IyziCo Payments Module + real-time integration with the three largest courier companies in Turkey – Yurtiçi Kargo, MNG Kargo and Aras Kargo

England and the USA
Amazon Payments, Google Wallet, Barclaycard, Payment Sense, Total Web Solutions

Russia
Yandex Money and Web Money

Azerbaijan
MilliKart, Golden Pay

Other improvements
23. Featured categories on home page: Besides the standart capability to feature products on Home page, you can do much more and promote selected categories on Home page.
24. Now you can add a Drop-down menu with Categories anywhere on your website.
25. Version 7.0 provides a totally improved management of menus and navigation. It is much easier to add sub-menus and manage your website navigation.
26. Add a video to a product and display it next to product images.
27. The new "Promotions" tab in the Administrative panel allows you to easily promote a product as featured or create a discount for it.
28. Manually tag some products as "New" (in a combination with the current automatic setting).
29. Show/Hide "Compare" button in Product listing.
30. Save previous revisions of a web page and acces it directly through the Admin panel.
31. Archive of sent e-mails.
32. Better and easier management of banners.
33. More simple management of layouts and boxes with Drag-and-Drop.
34. Video tutorials integrated and accessible directly in the Administrative panel.
35. Create a Support ticket without leaving the Administrative panel of the online store.
B2B Package

Business-to-Business enhancements

36. Prices are visible after registration only
37. Notification of newly registered users + Manual approval
The owner (administrator) of the store has the possibility to manually approve newly registered customers and add them to the corresponding client group.
38. Reorder Shopping List
The wholesale customers, who are regularly purchasing the same items, now can place a new order just in seconds. Customers have a Reorder Shopping List that consists of all previuosly bought items and are able to reorder selected products in one click only.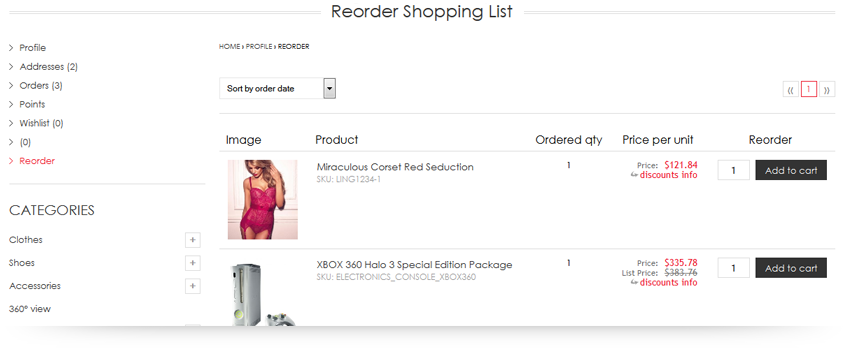 39. Bookkeeping of Invoices and Credit notes
Store owner can issue, edit and manage invoices and credit notes for all purchases made through his/her online store. No need for a separate invoicing program!
40. Bookkeeping of Payments
Now you can record and keep track of all actual payments related to your online store directly in Summer Cart`s admin panel.
41. Bookkeeping of Receivables
Summer Cart 7.0 enables you to have a detailed financial balance for each customer`s account. For your convinience, orders, invoices and their corresponding actual payments are now accumulated in a client balance sheet.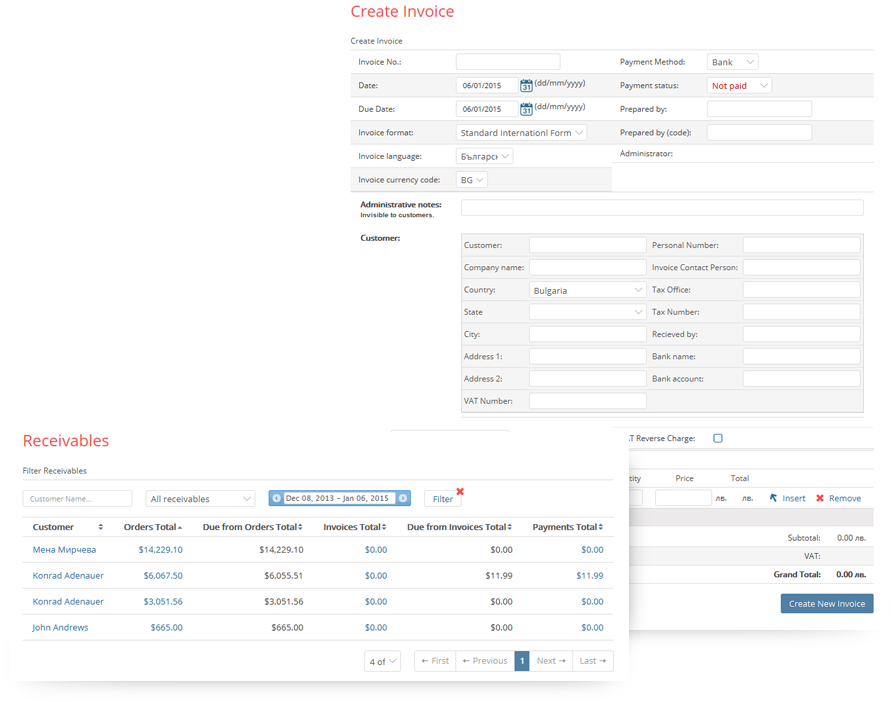 42. "Buy On Credit" payment method
43. Direct payment of a random amount with credit or debit cards
If you have customers who buy on credit from you, they may login with their accounts into your store and initiate themselves a payment of a random amount with a bank card. For example, if a customer owes you 1000 Euro he/she may self-start the payment of 500 Euro through a payment gateway you have set up.
44. "Pay in store" payment method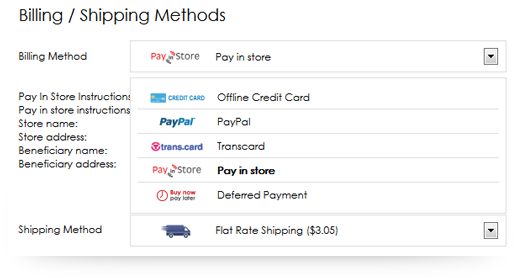 45. Match a payment method to a client group
If your business requires a special payment agreement with a specific group of customers (for example, dealers from Eastern Europe buy on credit and you allow them to pay with a bank transfer in one month's time), that customer group can use a particular payment method after logging into your store with their accounts. The specific payment method will not be available for any other customers, unless you allow it.
46. Match a shipping method to a client group
As an extension of the above example, if you have your own delivery transport for the local market, you can give your dealers the option for free delivery by your own schedule. That shipping option will not be available for any other customers, unless you allow it.
47. Sell a product to a particular customer group only
You can restrict the sale of a product to a particular customer group. That product will not to displayed to any other customers.
48. Minimum and maximum quantities for sale by customer group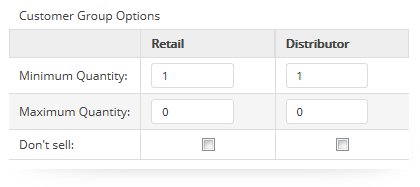 49. Import and export of variants in CSV format
50. Invoice designer to print an invoice on your own template